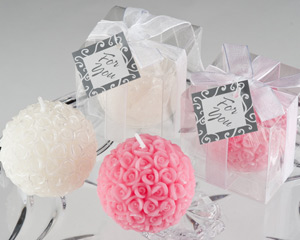 Rose Ball Candle in Gift Box with Matching Bow and Tag
Our Rose Ball Candles are made up of tiny rose buds and are available in pearl, dusty pink and red. Each rose ball candle measures 2" in diameter and is presented in a clear gift box that measures 2.25" x 2.25" x 2.25". These candles have a burn time of 4 hours. The gift box is complete with a sheer white organza ribbon.
You can also add our personalized tags to this favor which allows you to add names, as well as choose from a variety of colors, shapes and graphics.