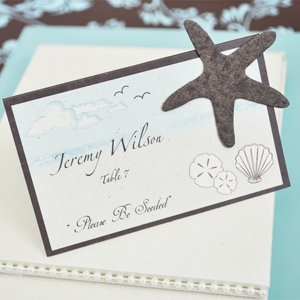 "Please Be Seeded" Starfish Plantable Seed Place Cards
If you love the outdoors and are having a beach or beach themed wedding then these are the wedding favors for you. Plantable place cards with a beach theme!
Each place card is printed with a beach scene
Brown seed paper starfish is attached at the top
Instructions for planting and list of flowers are printed on back
Each card is printed with "Please be Seeded"
Place cards are made from recycled paper
Each package contains 12 place cards
Favor measures 2.5" x 4"