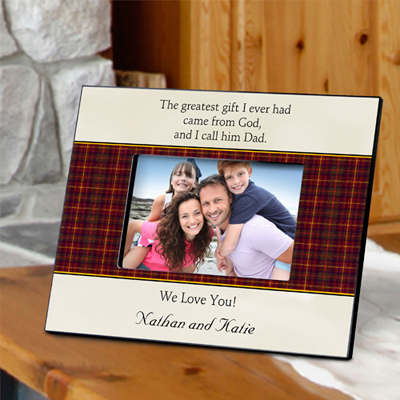 Father's Poem Frame
Say it with a poem! Choose from four verses that tell Dad how much you care on his special day. This handsome personalized frame boasts a unique plaid and parchment colored background with plenty of room for a two-line personal message, written just for him. Perfect for Dads of any age and ideal for his desk or bedside table. Frame measures 8" x 10" and holds a 4" x 6" picture.
Select poem and two lines of personalization of up to 25 characters per line.
Poem 1: Any man can be a father, but it takes a special person to be a dad.
Poem 2: The greatest gift I ever had came from God, and I call him Dad.
Poem 3: Dad, your guiding hand on my shoulder will remain with me forever.
Poem 4: Dad, you're someone to look up to no matter how tall I've grown.