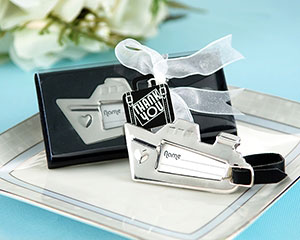 'Destination Love' Cruise Ship Luggage Tag
Now boarding for all destinations romantic! Frequent fliers and travel buffs alike will adore the usefulness of this special little wedding favor. This charming luggage tag can easily double as a place card holder. Brides will love the touch of sophisticated whimsy these place card holders add to their wedding, and what a great way to thank your guests for travelling for your special day.
Each cruise ship shaped luggage tag is crafted of substantial chrome and is dotted with a delightful heart steering the ship. Attached is a black adjustable leather strap. Each favor comes packaged in a black bottom gift box with sheer organza ribbon and retro luggage thank you tag. Measures 3 1/4" x 2 1/4".