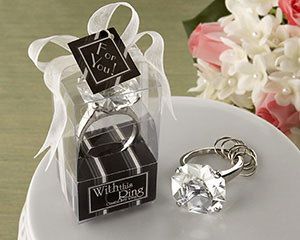 "With This Ring" Engagement Ring Keychain
These exquisit engagement ring key chains make excellent bridesmaid favors and gifts for bridal shower guests. Dazzling from every angle, this beautiful crystal "diamond" is a stunning, oversized replica of the real thing. There's enough expertly designed details to really turn heads!
Chrome ring includes several key chain hoops
Showcase "ring" box with sheer white, organza bow and matching "For You" tag.