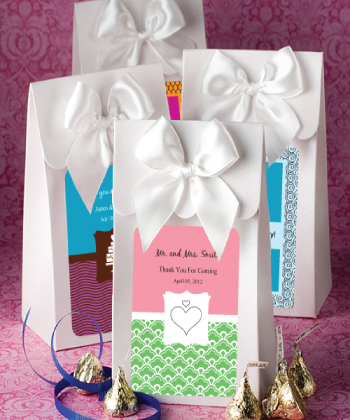 White "Delivered With Love" Boxes From The Personalized Expressions Collection
Surprise your guests with something special in these white "Delivered with Love" boxes from the Personalized Expressions Collection. Here are stylish, personalized wedding favors that we guarantee will be one of a kind! That's because with these pretty packages you get to choose what's on the inside AND the outside.
White iridescent finish for a beautiful sheen and a distinctive fluted front flap top and matching white bow that can be secured with an included self sticking strip
Front center of the box is perfectly fit for easy application of the personalized label of your choice
Assorted color combinations, to seasonal and themed designs, to your own title, you design the eye catching label that's truly your own
Boxes are bulk packed in poly bags with bows packed separately, along with self sticking label sheets for you to apply
Each box measures 5 3/4" tall x 3 1/2" wide x 2 1/4" deep
Please allow 3-4 days for production.