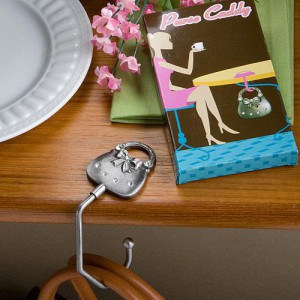 Unique Pewter Purse Caddies
Hold on! These unique pewter purse caddies make wedding favors that are useful with a clever and decorative flair. It's never been easy to find the perfect place to hang your purse until now! Your purse will always hang safely and conveniently right next to you at your table.
Made of pewter metal with a pocketbook shaped weight at its top, enhanced with rhinestones and a carved bow, attached to a hanger below
Each comes packaged in a brown box with the words "Purse Caddy" in pink and the silhouette of a fashionable woman at a bistro table using her own purse caddy
Each measures 5" x 3"
To use, simply place the handbag weight flat on the table and hang your purse handles on the hanger below.