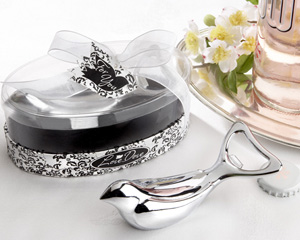 The "Love Dove" Chrome Bottle Opener in Elegant, Oval Showcase Giftbox
An exquisite wedding favor and a classic symbol of peace and love. To truly touch the hearts of your guests, thank them with this distinctive and meaningful dove-shaped, chrome bottle opener. You'll be pleased to know that our chrome favors are solid chrome, with a notable weight and lasting quality, so your guests will enjoy the elegantly practical "Love Dove" bottle opener at home again and again.
Chrome dove's tail is the bottle opener
Dove measures 4" long
Exquisite gift packaging places dove bottle opener atop a black-velvet base inside an oval gift box decorated with an intricate, Victorian-style, black-and-white floral design, all capped by a clear, oval cover accented with a sheer, white organza bow and matching "For You" tag
Gift box measures 5" x 2"