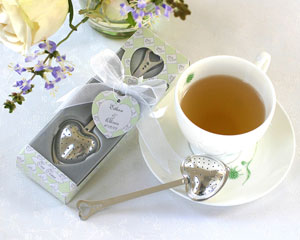 "Tea Time" Heart Tea Infuser in Tea-Time Gift Box
Bring sophistication to your special day with this elegant tea infuser. A delicate heart theme distinguishes the infuser, and makes it a lovely favor for weddings, baby showers, Mother's Day parties and more. Time for you, time for me, time for fun, time for tea!
Crafted from polished metal
Perforated infuser is heart shaped, and the handle has lovely, openwork hearts
A delightful pale green teapot print graces the gift box and it is tied with sheer white, organza ribbon and heart-shaped "Thank You" tag
Gift box measures 7 1/2" x 2"