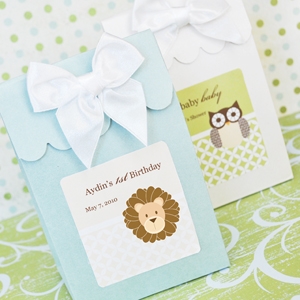 Sweet Shoppe Candy Boxes - Baby Animals
These sweet shoppe candy boxes are just the ticket for your baby shower! Shower your guests with love and a sweet treat by giving them these favor boxes which you can fill with the mommy-to-be's favorite treat! Not to mention your guests will love the cute little baby animal faces that will be smiling back at them.
Personalized labels with colors, baby animal of your choice, and add text
Labels arrive unattached
Each shimmery box comes with a satin bow matching the color of the box
Stickers on the box flaps hold them closed once you fill them with your treat
Boxes measure 5.75" x 3.75" x 2.5"
Each box comes with a matching satin bow. Additional colored bows can be found here