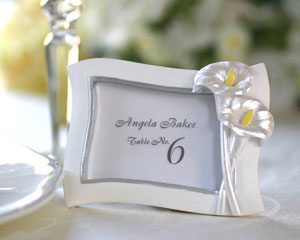 Swaying Calla Lily Pearlescent Place Card/ Photo Frame
Imagine this...your guests arrive at their designated table and are happily surprised to find such a stunning - and reusable - photo frame displaying their place cards. Or maybe smiling photos of the happy couple framed in these pretty pearlescent frames are sprinkled all around the reception. There are countless ways to use these frames to add the beauty of lilies to your wedding decor, and even more ways your guests can use these later at home.
Each frame measures 3" tall and 3.5" wide. The softly curved shape, silver border and handpainted pearlized calla lily detail make this favor simply exquisite! You can also add our custom tags to this item which allow you to add names, as well as choose from a variety of shapes, graphics and colors.