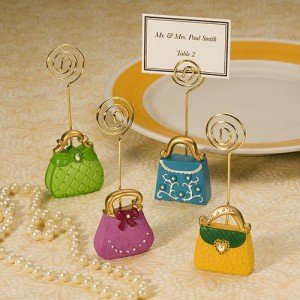 Super Chic Purse-Inspired Place Card Holders
Bring high fashion to your event tables with these super chic purse-inspired place card holders. Talk about style - these wedding favors have it in the bag!
Features a tiny replica resin purse base with a gold wire extending from its top leading to a coiled place card holder
Comes in multiple colors and detailed styles including apple green, fuchsia, melon with green accent and turquoise
Sold exclusively, the purse favors comes in an individual poly bag with blank place cards
Each 1 3/4" x 4 1/2"