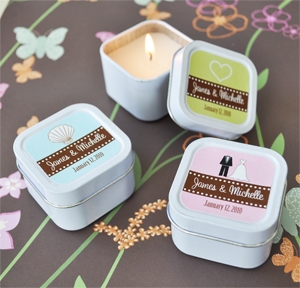 Square Personalized Theme Candle Tins
Candlelight always makes the ambiance of a room romantic with its soft glow. So on your romantic day why not give your guests these personalized candle tins as their wedding favors to create their own romantic moments.
Candles come in square tins
Personalize with a variety of colors and designs, add text to your labels as well
2 oz. white candle tins arrive separate from labels (labels must be attached)
Candles have subtle floral fragrance
Tins measure 1.4" x 2"