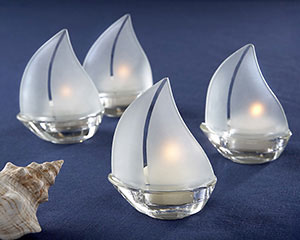 "Set Sail" Frosted Glass Sailboat Tealight Holders,
These delightful tealight holders make an exquisite presentation at every place setting, as the tealights within illumiate their frosted glass sails. Is there a more romantic image than candle-lit sailboats on a nighttime harbor, each one glowing with ambience? These Sailboat Tealight Holders work great for summertime, springtime, or nautically themed weddings especially.
Sold in sets of four - tealight candles included. Each sailboat measures 3" x 3.5" and comes individually packed . You can also add our custom tags to this item which allow you to add names, as well as choose from a variety of colors, shapes and graphics.