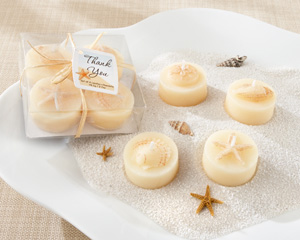 "Seaside" Tea Light Candle Set
When ocean waves retreat from the shore, the sand is left sprinkled with romantic treasures - starfish, sand dollars and seashells. In this lovely "Seaside" Tea Light Candle Set we have captured their natural beauty. The set includes four scented tea lights topped with these jewels from the sea and gift-boxed with the seaside in mind. You can also add our custom tags to this item which allow you to add names, as well as choose from a variety of graphics, colors and shapes.
Ocean-breeze scent
Sand-colored tea lights include one topped with a starfish, two topped with seashells and one with a sand dollar
Gift box measures 3" x 3" x 1"
Gift packaging includes a straw-colored raffia tie and matching starfish "Thank You" tag.