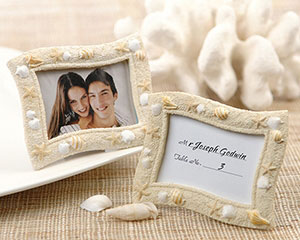 'Seaside' Sand and Shell Placecard Holder
Catch the wave! Planning a beach wedding or perhaps a destination wedding? Then consider this charming little keepsake which does double duty as both a whimsical photo frame and a place card holder. The poly resin frame features realistically colored seashells and starfish and the gently crashing surf is mirrored by the curved, sloping design of the 2.75" x 3.5" frame. The soft felt on the back is juxtaposed against a delightfully authentic, sandy finish on the front that just begs to be touched.
You can also add our custom tags to this item which allow you to add names, as well as choose from a variety of colors, shapes and graphics.