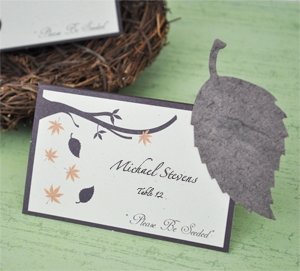 "Please Be Seeded" Leaf Plantable Seed Place Cards
These are the perfect wedding favors for your fall wedding. They are a wedding favor and place card all in one, not to mention extremely eco-friendly. Once this favor has served it's purpose as a place card our guests can take them home and plant them to grow wildflowers.
Each place card has a gentle falling leaf scene
A brown seed paper leaf is attached at the top
Instructions for planting and list of flowers are printed on back of card
Each card is printed with "Please be Seeded"
Tent style place cards are made of recycled paper
Each package contains 12 place cards
Favor measures 2.5" x 4"