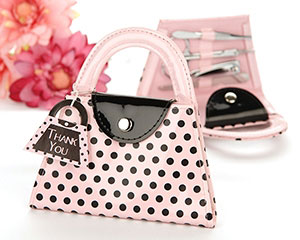 'Pink Polka Purse' Manicure Set
These manicure sets, fashioned to look like ultra-chic purses, add some cosmopolitan flair! The 4 piece stainless steel set includes nail file, clippers, tweezers, and scissors and fits perfectly in the pink and black polka dot purse. A darling purse shaped "Thank You" tag adds to the presentation. Measures 5 1/2" x 5 1/8".
You can also add our custom tags to this item which allow you to add names, as well as choose from a variety of shapes, colors and graphics.