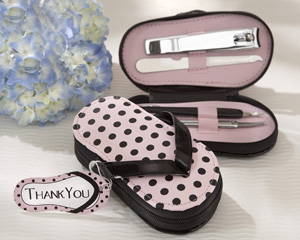 "Pink Polka Flip Flop" Four Piece Pedicure Set with Matching "Thank you" Tag
This adorable favor is simply irresistible with its ultra-chic, modern flair. The unique flip flop doubles as a 4-piece pedicure set with a cheerful pink and black polka dot design. Pull the zipper to reveal the essentials: clippers, nail file, scissors and cuticle instrument. Measures 2" x 4.5"
You can also add our custom tags to this item which allow you to add names, as well as choose from a variety of colors, shapes and graphics.