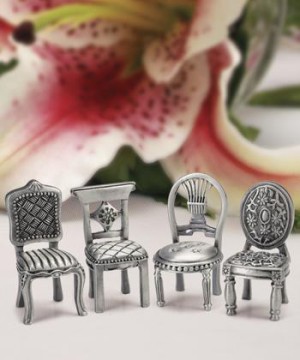 Pewter Chair Figurine Placecard Holders
Stylishly invite your guests to take a seat with these whimsical Pewter Chair Figurine Placecard Holders - wonderful as wedding favors. Here's your chance to provide a warm welcome to your guests while bringing order to your reception seating. These unique wedding favors are bound to be a crowd pleaser.
Detailed pewter chair figurine placecard holders come in four assorted antique chair designs
Placecard holders are approximately 2" tall
Individually poly-bagged
In addition to their placecard holding duties, the versatile chairs can be used to display a photo, hold a note, etc.