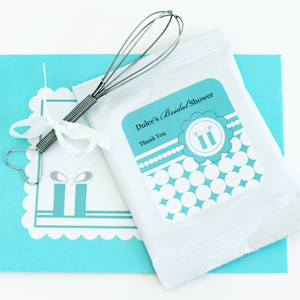 Personalized Lemonade + Optional Whisk - Something Blue
If you are basing your wedding theme on the age old saying "something old, something new, something borrowed, and something blue" then we have the perfect wedding favor for you! Give your guests these personalized lemonade packets that match the something blue part of the rhyme!
Personalize labels with text
Labels arrive unattached from packets
Pair the mixes with our optional heart handle mini whisks with white satin bows
Each single white gloss pouch contains 1 oz. of Premium Blend powdered Lemonade
Directions printed on back
Packets measure 5" x 3.25"