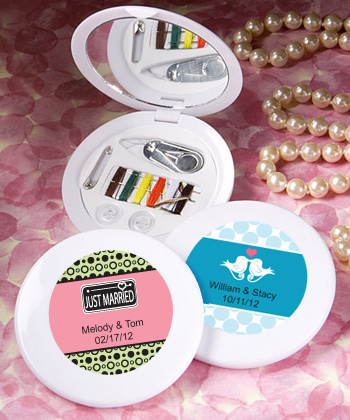 Personalized Expressions Collection Sewing Kit Favors
Sew up your favor plans with these Personalized Expressions Collection sewing kit favors. Talk about handy! These personalized wedding favors will literally keep your guests in stitches!
White plastic exterior and a handy glass mirror and sewing kit - complete with a safety pin, two needles, a threader, two spare buttons and a variety of threads - tucked inside
Compact's outer center is fit for easy application of the personalized label of your choice
Assorted color combinations, to seasonal and themed designs, to your own title, you design the eye catching label that suits your style
Each comes bulk packaged in a poly bag, along with self sticking label sheets for you to apply
Each favor measures 2 3/4" round with hinges
Please allow 3-4 days for production.