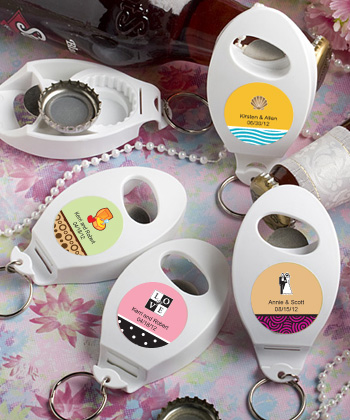 Personalized Expressions Collection Bottle Opener/key Chain Favors
Your guests will really open up to these Personalized Expressions Collection bottle opener/key chain favors. A real eye opener, these personalized wedding favors come with a personal touch - a self sticking label that you make truly your own.
Each multifunctional white plastic bottle opener/key chain measures 3 1/4" x 2" x 4" (including the ring)
Oval shape with both a metal flip top opener on the side and a twist cap opener underneath and an attached metal key ring
Assorted color combinations, to seasonal and themed designs, to your own title, you design the eye catching label that you apply to the top
Please allow 3 - 4 days for production.