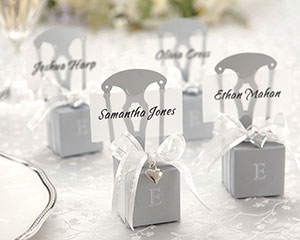 Miniature Silver Chair Favor Box w/ Heart Charm & Ribbon (Can be Monogrammed)
The ideal wedding favor is one that looks exceptional on the table and is still incredibly functional. This delightful little favor is exactly that! These miniature silver chairs do double duty as a place card holder, with the included vellum strip (3" l x 1 1/4" h) which serves as a place card, and the inside of the chair seat holds several ounces of whatever favor filling you would like. You could fill the seats with candies, seeds, flower petals, potpourri or with chocolate, mints...almost any wedding favor you can think of!
The chair comes with a lovely silver heart charm and an elegant white and silver ribbon. Measures approximately 4 1/2" tall when constructed and is sold in sets of 12. Fillable box measures 1 1/2" square. You can add an extra special touch by adding a monogram to make it a truly personalized wedding favor. Some assembly required.
D, Q, U, X, & Y are not available