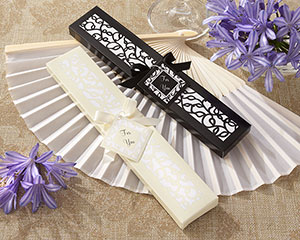 Luxurious Silk Fan in Elegant Gift Box
Just the favor for your elegant occasion under the sun! Glistening guests will thank you exuberantly when you thank them with a fabulous fan to keep them cool and content during your event. Features and facts:
Pure-white, translucent, folding silk fan has a smooth bamboo frame
Fan measures 8 ¼" h x 1" w (closed;) opened fan measures approximately 8 ¼" h x 14 ½" w
Intricately designed gift box design features a delicate gift box with "For You" tag
Gift box, available in ivory and accented with an ivory satin ribbon and bow, measures approximately 8 ¾" l x 1 ½" w ½" d
Matching personalized tags available at an additional charge
Each color sold in a set of 4
Black box has been discontinued.