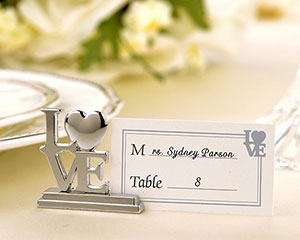 "LOVE" Place Card Holder/Photo Holder with Matching Place Cards
It is often the little things that make the biggest statement. Share your LOVE with these elegant place card holders that your guests will adore using as photo holders at home. You can also add our custom tags to this item which allow you to add names, as well as choose from a variety of graphics, shapes and colors.
Sold in a set of four
Crafted of quality chrome
LOVE is in two rows of block letters, with a heart representing the O
Includes designer place cards
Measures 1 1/4" x 1 1/4"