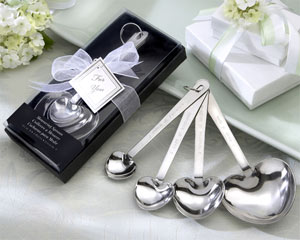 "Love Beyond Measure" Heart-Shaped Measuring Spoons in Gift Box
Love is a lot like cooking. The results are divine, when you combine the right ingredients! These unique and useful heart-shaped measuring spoons will give your guests all they need to cook with love. Each set of four spoons features "measures of love" on one side with traditional measurements on the other. "A Heap of Love" = one tablespoon, "A Spoonful of Laughter" = one teaspoon, "A Dash of Kindness" = 1/2 teaspoon and "A Pinch of Patience" = 1/4 teaspoon.
Measuring spoons are crafted from stainless steel
Black velvet-lined gift box measures 6" x 1 3/8" x 2 3/4"
Gift box includes sheer, white organza bow and a silver-heart tag that reads "Love Beyond Measure"