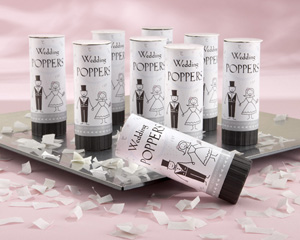 "Have a Blast!" Biodegradable Celebratory Wedding Poppers
We know you have something to celebrate, so why not give your guests the perfect alternative to rice before you rush off from your wedding reception to your honeymoon - our "Have a Blast!" Wedding Poppers!
The wedding poppers launch biodegradable tissue paper confetti into the air by a safe, spring-loaded device. Imagine the festivities and the fabulous photos you'll create! The peppy popper wrapper, which gives your guests instructions for use, shows a cartoon bride and groom holding hands, surrounded by festive confetti, with the words "Wedding Poppers" overhead. Nothing spreads the joy like confetti! Measuring 4 1/4" h x 1 1/2" in diameter, the poppers are sold in sets of 12.