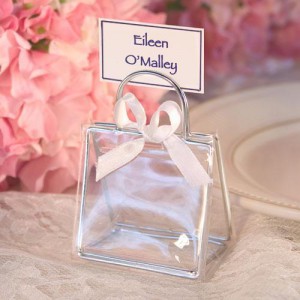 Handbag Place Card Holders
For a bag that will match every outfit and every occasion, choose these pocketbook shaped candy and place card holders as your wedding favors.
Features a white bow embellishment on a metal frame with clear plastic sides and a metal handle that doubles as a prominent place card holder
Each purse measurs 2 5/8" x 2" x 3"
Offered exclusively online
They're ready to be filled with any number of colorful treats or left empty for clearly elegant appeal.
Candy and placecard not included.