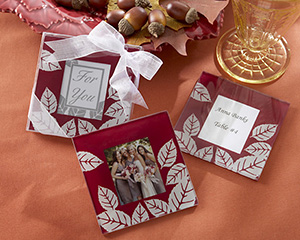 "Fall Impressions" Glass Photo Coasters
These lovely "Fall Impressions" glass photo coasters are elegant and practical. The rich burgundy coasters, with imprints of fall leaves, add flair to any Autumn wedding, bridal shower or outdoor event. The photo coasters can be used in any number of ways at your wedding: as a place card holder, framing a photo of the happy couple or simply displaying the beautiful "For You" message to guests. Your guests will be left with the wonderful memories of fall and the romance of your wedding, and will love that they can use them at home to display their own photo. These photo coasters are crafted of heavy glass, with four padded "feet" to protect surfaces.
Each favor is packaged as a set of two coasters and measures approximately 3.5" x 3.5" and fits photos approx. 2" x 1.75". You can also add our custom tags to this item which allow you to add names, as well as choose from a variety of colors, shapes and graphics.