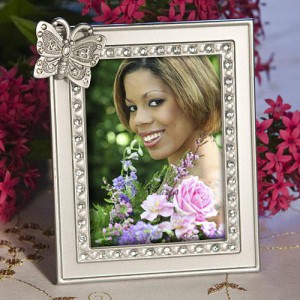 Enchanting Butterfly Photo Frame
These wedding favors, adorned with an enchanting butterfly, will make your guests' spirits fly. A true symbol of beauty, transformation and natural elegance, the butterfly embellishment on this frame makes it a fitting favor choice.
Silver matte metal picture frame has a detailed, rhinestone embedded border with the rhinestone decorated poly resin butterfly in its upper corner
At the center is a 2 1/2" x 3 1/2" photo window that can double as a place card holder
Finished with a hinged black felt easel backing, cut to stand vertically or horizontally
Comes in a white box
Each 3 1/4" x 4 1/4"