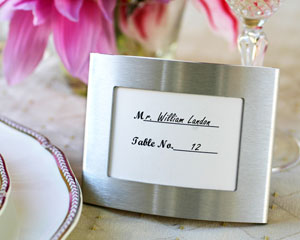 Elegant Arc Photo Frame and Placeholder
This unique wedding favor is sure to impress your guests. Elegantly brushed metal curves gently around your guest's name and table number. The soft bend of this unique frame catches the candlelight at your reception, and later serves as a photo frame for your guest's 3" x 2" photographs. The frame itself measures 3 1/4" x 4" wide. A practical and eye-catching favor!
You can also add our personalized tags to this favor which allows you to add names, as well as choose from a variety of colors, shapes and graphics.