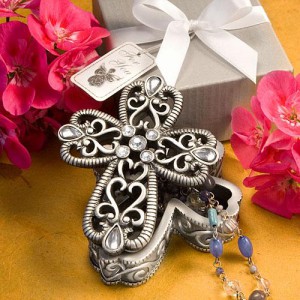 Cross Design Curio Boxes From The Heavenly Favors Collection
As special event keepsakes, these cross design curio boxes from the Heavenly Favors Collection are truly heaven sent.
Our cross design curio boxes are fitting for just about any occasion and are sure to find a special place in your guests' hearts and homes. Each measures 3" x 3" x 1" and is made of sturdy poly resin in a silver/pewter finish. Sure to make a stunning presentation, each comes in a satin finish silver box, tied with a white satin bow and an attached angel themed "For You" tag. Designed to hold any number of treasures, each cross shaped box has a solid filigree base with a removable cover that has a detailed cross design with filigree swirls and assorted shaped rhinestone enhancements for a shimmering touch.