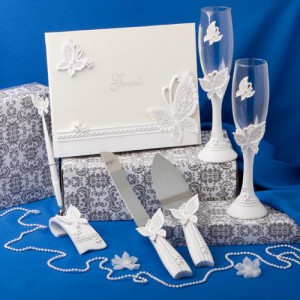 Butterfly Themed Wedding Day Accessory Set
Make the memories last with our Finishing Touches Collection of butterfly themed wedding day accessories. With its exceptional allure and beauty, the butterfly makes a stunning addition to your wedding day motif. With these accessories you can seamlessly add lasting touches of this beloved symbol of love to your day.
Complete with all the trimmings you'll need for your reception, the set includes:
Two 9 1/2" high toasting flutes with 2 1/4" bases
A 12 1/2" x 1" cake knife and 10" x 2" cake server set
A 9 7/8" x 7 7/8" guest book
A pen set measuring 8" high with the pen inserted (4" without the pen) with a 1 1/2" base
Each piece is exquisitely crafted with white poly resin in the detailed/carved butterfly design. All of the items come packaged in a clear topped box with a slate gray and white damask design base for storage after your wedding day is through.
( The set includes #WF12000 Pen set, #WF12095 Guest book, #WF80300 Cake knife set and #WF20633 flute set. )