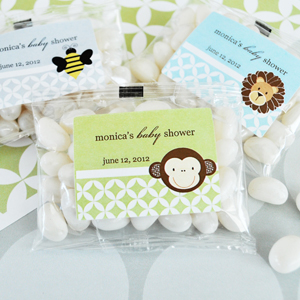 Baby Animal Personalized Jelly Bean Packs
Give your baby shower guests something sweet, even though it doesn't compare to your new little one, these personalized jelly bean packs are sure to put a smile on your guests face. Not to mention the faces of the baby animals on the packets.
Personalize labels with color, baby animal and add text
Labels arrive unattached to packets
Packets are filled with vanilla-flavored jelly beans
Each pack contains approximately 35 jelly beans (1.5 oz)
Packets measure 3 1/8" x 2 1/2"