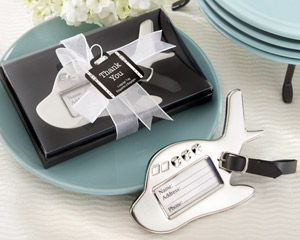 Airplane Luggage Tag in Gift Box with suitcase tag
Grab your carry-on and have your boarding pass ready! Travel buffs and frequent fliers alike will adore the usefulness of this charming little wedding favor which could easily double as place card holders. Each airplane shaped luggage tag is forged from heavyweight chrome and adorned with three heart shaped passenger windows. Attached is an adjustable, black leather strap. Each luggage tag comes packaged in a black bottom gift box with sheer organza ribbon and retro luggage "Thank You" tag. Measures 3 1/4" x 2 1/4".
You can also add our custom tags to this item which allow you to add names, as well as choose from a variety of colors, shapes and graphics.