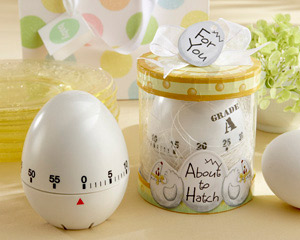 "About to Hatch" Kitchen Egg Timer in Showcase Gift Box
This "About to Hatch" timer is full of charming details that your guests will adore! From the "Grade A" sticker near the top, to the two hens guarding an egg which reads "About to Hatch" on the base, this timer is a unique and practical baby shower favor. The egg-shaped timer twists at the bottom to countdown any interval of time from 1 minute to 60 minutes. Packaged in a clear round gift box, this delightful timer is showcased from every side. The box is complete with a sheer white organza ribbon and tied with a matching egg-shaped gift tag reading "For You!". Approximately 3" x 3".
You can also add our personalized tags to this favor which allows you to add names, as well as choose from a variety of colors, shapes and graphics.