These days, brides are bolder than ever and aren't afraid to replace traditions with their own special twists. Your wedding day is something you will remember for your entire life. Make it your own, and skip these outdated wedding traditions.
The Long Veil – Forget about hiding that beautiful face – especially after taking such painstaking measures to ensure that your makeup is perfect. Rather than going with the veil, choose an accessory that accentuates your whole ensemble, such as a headband or hair fascinator. These are very popular and there is such a wide range of styles that you can easily find something perfect for you.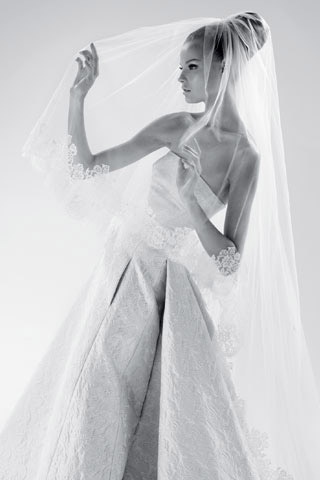 Two Wedding Colors – This is another of those outdated traditions. It's your wedding, and you can have as many colors as you like. These days, brides are doing as many as five and six colors that complement each other well. It's a great idea to browse through pictures of color palettes to get great ideas for your own wedding.
The Traditional "Wagner's Bridal Chorus" – This is the song you hear when most brides come down the aisle, but you certainly don't have to choose it for your own wedding. Pick something that means a lot to you and your groom, or have a talented musician make the traditional chorus more suited to you and your future husband.
Tossing Rice – These days, most brides are giving up the rice and having their guests blow bubbles, toss flower petals or confetti, or even ring bells as they exit the ceremony. While rice is a tradition, there are plenty of other options that will allow you to make the ceremony your own.
Bridesmaids and Groomsmen – There is no law that requires a bride to choose female bridesmaids and a groom to choose male groomsmen. If your best friend is a man, have him stand beside you as you celebrate your unending love for your groom. If your husband's sister is his greatest confidant, she should have the honor of standing beside him for his wedding day! Embrace change and throw out the tradition.
These are just a few examples of wedding traditions that you do not have to follow. As you begin planning your wedding, remember to make it entirely your own and do whatever it is that you would like, tradition or not.