Most brides choose beautiful wedding favors for all their guests, but if you have guests coming from out of town, you might want to give them a little something special in addition to their wedding favor. These DIY treat boxes are sweet and from the heart, not to mention delicious.
Cookie Boxes
Pick up some cookie or treat boxes (you can also use wedding favor boxes or bags) and some cupcake liners to separate the goodies. You'll want to choose some matching ribbon if you don't purchase bags or boxes with ribbons attached.
The Recipes
You can choose your favorite cookie or treat recipe and create some homemade cookies, brownies or fudge to place inside the boxes. This delicious recipe is really easy and great for adding to your DIY treat boxes.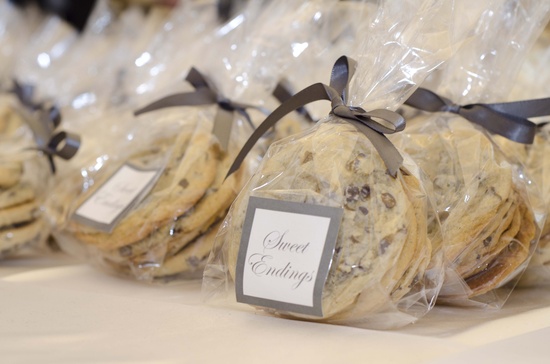 The Best (and Easiest) Peanut Butter Fudge
You'll need:
½ cup butter
2 and ¼ cups brown sugar
½ cup milk
¾ cup peanut butter
3 and ½ cup powdered sugar
1 tsp vanilla extract
Add the butter to a saucepan and melt over medium heat, and then stir in the milk and the brown sugar. Let the brown sugar melt and allow this mixture to boil for 2 minutes; stir constantly. Remove from heat and stir in the peanut butter and vanilla extract. When this is blended well, pour the mixture over the confectioner's sugar in a large mixing bowl. Beat at medium speed for about 2-3 minutes or until everything is perfectly blended. Pour into a cake pan and use a knife to spread the mixture out. Let it cool in the refrigerator for a few hours before cutting.
This makes a delicious treat and you can make it even more special by cutting the shapes out with small, heart-shaped cookie cutters. This is sure to be a gift your out of town guests will appreciate and enjoy.