If you're a fan of Downton Abbey, chances are you watched with insane anticipation as Lady Mary Crawley finally made it down the aisle toward her beloved Matthew. She was absolutely beautiful, wearing a custom-made wedding dress that was the show's most expensive costume to date. If you love the look and want to borrow parts of it for your own wedding, here's how: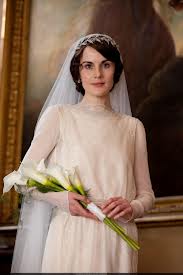 The Headband
The headband/tiara was one of the most beautiful parts of Lady Mary's ensemble. Headbands similar to Mary's are available from a variety of artists. This bridal headband available from LuluSplendor on Etsy comes close, while featuring smaller, branching leaves.
This silver leaf headband may be closer in appearance to what Mary's headband actually looked like, and is available from simpleeluxx on Etsy.
The Bouquet
Lady Mary carried a charming bouquet of calla lilies for her big day. Simple and beautiful, calla lilies can play a major part in your wedding, and all you have to do is speak to your florist. Carry the long-stemmed calla lilies like Mary did or have your florist make a custom, shorter-stemmed bouquet.
The Dress
Mary's dress was a custom-made, whimsical sheath dress that was beautiful and very feminine. It featured a belt and plenty of layers of material, some sheer and lacy. A few that come close to Lady Mary's style include:
The Hayley Paige spring 2013 Anya Sheath wedding dress, which features gorgeous draped silk and a tulle illusion collar with crystal embellishments. This one is really beautiful and simple; perfect for the bride who wants that Lady Mary look.
The Lazaro Beaded Sheath spring 2013, which features breathtaking beaded embellishment and a charming sweep train.
There you go – get the Lady Mary look with these simple but breathtakingly beautiful elements that create a sleek and sophisticated bride.