Your wedding should be everything you've ever dreamed of, even if you don't have a limitless budget. Here are 7 useful ways to have a celebrity-style wedding on a super low budget.
Dramatic Centerpieces
Create tall, dramatic centerpieces using glass containers purchased at craft stores or local discount stores. One per table is plenty, and you can customize them to suit your wedding perfectly. One great idea is to place artificial flowers inside, fill them with water and place a floating candle on top.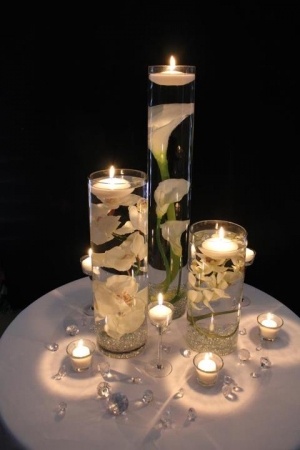 Use Greenery in Your Floral Arrangements
Most celebrity weddings involve a lot of flowers, which can be expensive. Use less flowers and more greenery. The effect is still breathtaking, but you'll save money.
Lighting Tricks
One of the ways that celebrity wedding planners make their clients' receptions and ceremonies so beautiful is through lighting. To create beautiful ambience, dim the lights and rely on candles at your reception. A tea-light candle for every place setting is a wonderful idea, and inexpensive.
Personalized Favors
Wedding favors are a huge part of celebrity weddings. The hottest types of favors are personalized, functional favors that guests can use long after the ceremony is over. These kinds of favors are often available in bulk for less than $1 each.
Wardrobe Change
One of the most popular trends for celebrity weddings is to change into a different dress for the reception. Traditionally, this dress is just as beautiful as the wedding dress, but more comfortable and allows for freer movement. Check last season's racks or shop online to save.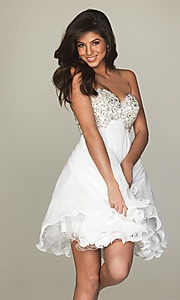 Trendy Venues
Celebrity weddings are often held in trendy venues like seaside hotels or rooftop gardens. Scout out your town for trendy wedding spots. Even businesses or areas that don't traditionally host weddings might be willing to do so if you talk to them. Think about options like bed and breakfasts, a relative's beautiful home, a renovated barn, etc.
Simplicity
One of the things that really make celebrity weddings stand out is their simplicity. While most celebrities will pay hundreds of thousands of dollars for a wedding, their details are simple and elegant. Remember this while planning and you'll be ahead of the game.
By using these fun tips, you can throw a celebrity-style wedding on your budget that will impress your friends and create beautiful lasting memories.