Brides want to look perfect on their wedding day, from the tips of their toes to their hairstyle, so the perfect manicure is essential. Take a look at these 8 designs to gain inspiration and choose the perfect manicure for your big day.
1. Engagement Ring Manicure
This super cute style features French tips on all the nails, with a little embellishment on the ring finger. A golden strip and a pretty rhinestone make a faux engagement ring.
2. Lace Manicure
This feminine and pretty style features "lace" details on the ring fingers of each hand. This is perfectly suited to the wedding day, and can beautifully match your dress, veil and other elements of your ensemble.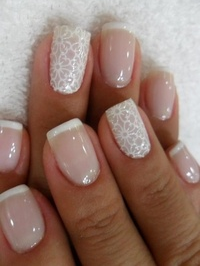 3. Bling Manicure
This style is much more intricate and is perfect for the bride who loves her bling. This look features longer nails with floral decoration and rhinestone accents.
4. Lace Tips Manicure
This beautiful look is like the lace manicure, but it's only lacy at the tips and it is present on all the nails. This is a really subtle and beautiful look, perfect for any bride.
5. Simple Manicure
This beautiful French manicure features a small floral detail on each ring fingernail, along with a single rhinestone. This one is very pretty and feminine and it's perfect for brides who don't want to go overboard with their wedding manicure.
6. Glitter Manicure
For shorter nails, this is a perfect option. The nails are painted in nude or another light color and then covered in chunky glitter. This one is really pretty and feminine as well.
7. Bold Black and White
This black and white design features ribbons and glitter tips to create a bold look that is wonderful for a vintage-inspired wedding or a non-traditional wedding.
8. Silver and Gray
This beautiful manicure looks more complicated than it really is. The nails are painted gray and then a silver glitter is used at the tips, faded down toward the cuticles. This is a beautiful look and will work well no matter what type of wedding dress you've chosen.
Even if these designs aren't for you, they can provide the perfect inspiration to choose a look that suits you very well for your wedding day.