Nothing livens up an event better than festive, sparkling champagne. Give your guests a little bubbly to take home for their own celebrations.
Champagne wedding favors are oh-so-festive and super sophisticated. Nothing says "thank you" and "just married" like a fabulous champagne toast! It's even better when you get to send your wedding guests home with equally festive favors. Don't worry—that doesn't mean you have to break the bank and send each guest home with an expensive bottle of bubbly. There are loads of fun favors that are champagne related that can celebrate the same ambience that a good bottle of Dom Pérignon can provide! Fortunately, champagne favors work great with just about any theme or reception décor style, and they always add an elegant touch to your place settings.
Unless you have the funds to give your guests individual bottles of champagne, you may have to resort to the less expensive options. Less expensive doesn't take away from the quality or the thoughtfulness of the favor, though. In fact, some of the champagne favors you will find are extremely practical and can last a long time. The elegant "Personalized Champagne Flute" comes in many different designs and has a beautiful twisted stem. You can personalize it with any saying and with a number of colors, making it as generic or as specific as you want. It is a gorgeous flute for any wedding reception or bridal shower, and is not only useful but sentimental as well.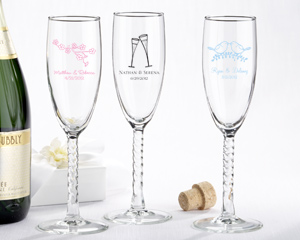 The "Let's Celebrate!" Champagne Flute Gel Candle and "Double Heart Design" Champagne Flute Candle Holders are elegant ways to display the personality of your favorite champagnes. The "Let's Celebrate!" Flute Gel Candle is a small replica of a flute filled with a realistic looking gel that resembles real bubbles and champagne color. It comes in a pretty clear box with stylish black ribbon which looks great next to any place setting, or it is small enough to be placed in a cute favor gift bag. Something the whole family can enjoy is the "Bubbly" Champagne Bubbles. These small green champagne bottles look like real bottles and are filled with one ounce of bubbles for bubble-blowing fun. These too are perfect for favor bag stuffing or for use during the reception. They are great for kids and for kids at heart! Give everyone something to celebrate with sparkly champagne favors such as these.