Coffee wedding favors are sophisticated, practical gifts that know how to warm the soul, please the taste buds, and stimulate the mind.
Coffee wedding favors are perfect for guests who are coffee connoisseurs or are just average, everyday coffee drinkers. I have not come across many people who do not enjoy a good, warm brew on a brisk fall or winter day, and I certainly can't think of anyone who doesn't enjoy sharing a cup over a chat with a loved one. A cozy roast is a wonderful complement for a day at home on the couch with a good book, or for serving with a savory dessert after a dinner party. Similar to tea, it can be great for sipping over conversation or enjoyed alone as well.
Whether you give coffee blends or coffee accessories, any coffee themed wedding favor can be enjoyed by both male and female guests and are not only practical, but are also attractive for your reception decor. For example, "The Perfect Blend Elegant Personalized Coffee Kit" is delicious ground coffee that comes in an adorable white or black favor bag that has either a bride or groom design with personalized tags attached. Complete with gorgeous white ribbon and matching coffee spoon, it is a romantic decorative piece and a thoughtful wedding favor. For other yummy blends, don't forget to look at the Starbucks coffee and tea gifts which come in a variety of flavors and are wrapped in fun, hip gift boxes.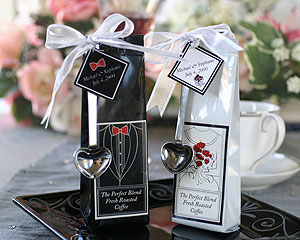 If you'd rather stick to coffee accessories, there are a number of fabulous coffee favors that include mugs, scoops, and sugar bowls you can choose from. The "White Ceramic Coffee Mug" can be personalized with any text you'd like, and will not leave your non-coffee drinking guests feeling excluded. It can be used for any beverage and can act as a wonderful display piece. The fancy "Fleur De Lis Design Coffee Scoop Favor" is another precious coffee accessory that is full of French flair with a royal touch, complete with chic organza ribbon and a "For You" tag attached. You can also give the "Coffee Themed Candle" which can add a warm coffee shop feel to any home or kitchen.