Your bridal shower offers you the perfect time to gift your girls with something sweet that is filled with enough love and sentiment to last for years.
Although your bridal shower is focused on you, it is considered good etiquette to give favors to your bridesmaids and anyone else who attends as a way to say thank you. It is especially nice to give specific personalized favors to your maid of honor or bridesmaids, making their gifts different from the others. Shopping for favors for your bridal shower can be fun because it is all about girls shopping for other girls. If you are having a co-ed bridal shower, you can still purchase feminine favors but maybe toss in a little something extra for the men so they don't feel too neglected. Either way, you get to shop for girly things and who would know how to find something sweet for your girlfriends better than you would?
There are three things you can never go wrong with— jewelry, gift certificates, and makeup. Makeup and accessories for a purse or vanity, or a gift certificate to a spa or hair salon are the ultimate ways to pamper your girlfriends. Any kind of necklace that can be engraved-such as a locket, is a truly sincere expression of your love and appreciation and can be worn to make a fashion statement, too. If you decide to give makeup favors, makeup bags to go with them really complete the gift. Try the "Cosmopolitan" Monogrammed Cosmetic Travel Bag and the 5 Piece Manicure Set to match. A beautiful accessory that your guests will be happy to tote around is the Floral Design Compact Mirror Favor. These delicate mirrors are perfect for makeup application and fit wonderfully in any small clutch or purse. They have a floral vintage look with a subtle touch of romance, bringing out the beauty of every woman.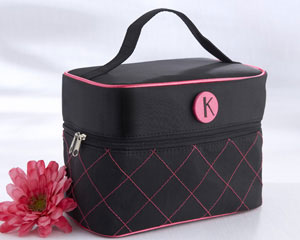 If you want to mix up your bridal wedding favors, you can always give everyone a little bit of everything while staying within your budget. Salon or spa gift certificates are an excellent way to spread the love. You can give the girls a few makeup favors as well as a ten or twenty dollar gift certificate. Every little bit helps, and the smaller amount you put toward the gift certificates, the more you can spend on other items to go with it. While engraved jewelry, useful gift certificates, and makeup are only a few of the many favors you can give to pamper the girls at your bridal shower, they are solid choices that never go out of style. Make them feel special with any of these favor ideas, or create your own from scratch for a truly personal "thank you".